About us
For award winning Indian cuisine, Bombay Bliss Indian Restaurant in Chermside is here to please. Concentrating on North and South Indian cuisine, we use authentic recipes that have been passed down through the generations. Bombay Bliss Indian Restaurant is pleased to accommodate many special dietary needs, and serves non-fat, vegan, non-dairy, and nut free items. Our delicious value packs are a terrific way for a family or large group to enjoy a sampling of a variety of popular dishes. If it's individual portions you need, then there are plenty of chicken, seafood, goat, lamb, and vegetarian curries to please everyone. Use our online feature to order your meal for delivery or collection at your convenience.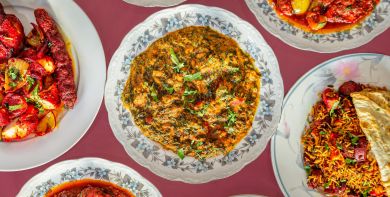 Reviews
Rikash
"Flavor good as usual. Disappointed with the rice and rice dish on last few orders. Rice not as good as previously."
15/03/2020
Jayke
"Beyond the normal service required. Food was great, and the delivery driver was better than the best ! Thank you"
3/03/2020
Beth
"Amazing food, 100% will order again"
15/02/2020
Michael
"Asked for medium spice for butter chicken, but gave us hot. Otherwise, very nice food and will try again."
14/02/2020
Chrissy
"Bloody awesome Indian restaurant"
19/01/2020
Vicki
"Another lovely meal ⭐"
7/12/2019